Well it sure isn't easy!
Since the tournaments inception in 1934 then known as "The Augusta National Invitational", players and sports fans from around the world have been itching to see the Alister McKenzie designed course in person.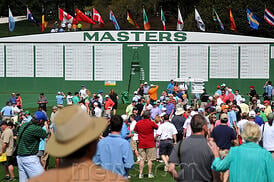 So let's say you and a few of your golfing friends decide that this year is your year to make the trek down Magnolia Lane. Well to be honest you're already a year behind. Every summer Augusta will hold an online lottery to sell tickets to the practice and tournament rounds. Those tickets are just about your only shot at making this golf trip an inexpensive one. Practice round badges online through the lottery are only $50, while tournament rounds are $75.
But now the lottery is over and you didn't win. What do you do?, Well if you take a look online, ticket prices can range from $800-$3000+ per ticket. Yes, technical it's cheaper to fly to Augusta then it is to get a peek at those hollowed grounds. (Or a taste of those famous pimento cheese sandwiches for a paltry $1.50)
So it's not easy to go, you understand. But what to do now? Well LostGolfBalls.com has given you and a guest a once in a lifetime opportunity to see Augusta National up close and personal.
Unlike Augusta's online lottery, you can gain more than one entry to our giveaway. By entering our contest through our website you automatically get 2 entries. That's just the beginning:
Get 2 bonus entries every time one of your friends you refer enters the contest.

Like

LostGolfBalls.com

on

Facebook

, 3 bonus entries.

Share our giveaway on your

Facebook

, how about 2 more entries!

Follow @lostgolfballs on

twitter

, give yourself 3 entries.

Share to all your

twitter

followers, 2 bonus entries.

And share on Google+, another 2 entries.
With all the ways you can get entered, there's no reason to not be excited about reserving April 13th, 2014 as the day you and a friend watch history in the making.