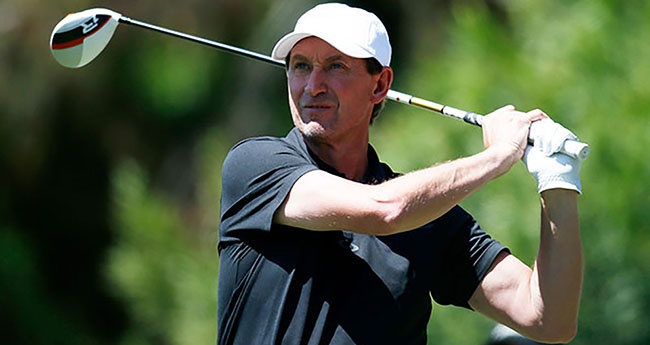 Image Credit: www.historylocker.com
In his book 99 Stories Of The Game, Wayne Gretzky talked about his passion for the game when he was injured after playing only one pre-season game in the 1992-93 season with the Los Angeles Kings.
Gretzky had some nagging injuries the previous few years, but it was never determined the exact problem. So he was sent to the Kerlan-Jobe Orthopedic Clinic, famous for doing the Tommy John surgeries replacing a ligament in the elbow with a tendon from somewhere else in your body.
He was asked by the doctor at the clinic if his back had ever been checked. Gretzky replied he hadn't because he thought the recurring problem was related to a broken rib. The doctor told him he had a herniated thoracic disk.
Gretzky's first reaction was whether he would be allowed to golf. The doctor replied: "You'll be playing hockey before I let you golf."
Through treatment Gretzky was able to resume playing hockey and golf. Ironically, golf has become a huge part of Gretzky's life because his daughter, Paulina, is the common-law wife of golfer Dustin Johnson, who has had a career season in 2016, highlighted by his win in the U.S. Open.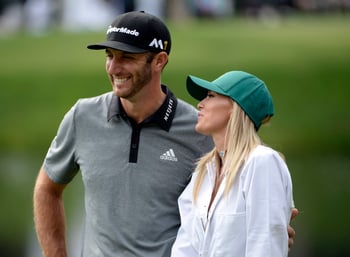 Image credit: USA Today
In a recent interview, Gretzky was asked if he ever plays against Johnson, and he jokingly replied that he has learned it's better to play with him as a partner than against him. He has also said Johnson's not only a good golfer, he's a good person.
Gretzky has been active in golf tournaments throughout his retirement from the game.
Golf and hockey are parallel in some respects because shooting a puck is similar to hitting a golf ball. Grant Fuhr, Gretzky's teammate with the Edmonton Oilers during their dramatic Stanley Cup run in the 1980s, absolutely loved golf. Gretzky referenced that in his book, noting that the laid-back goalie played 36 holes the day before the seventh and final game of the 1987 Stanley Cup.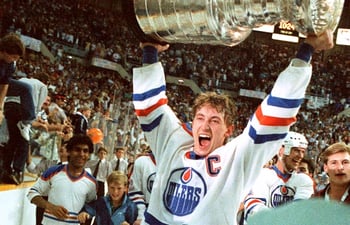 Image Credit: www.totalprosports.com
When Fuhr was asked by a reporter why he played 36 holes, which seemed like a lot leading up to a big game, the goalie replied: "Because it was getting too dark to play fifty-four."
Fuhr played lights out and the Oilers won the game 3-1 to win the Cup.
In his book, Grant Fuhr, The Story Of A Hockey Legend, Fuhr said his love for golf was developed by his father, Bob, who also introduced him to hockey and baseball. Teammate Marty McSorley noted in the book that golf allowed Fuhr to relax. "If he wanted to play a couple of rounds between games, no one bothered him about it."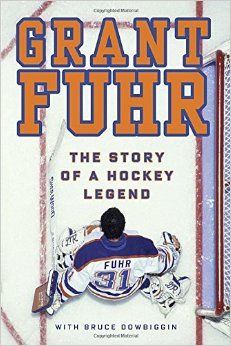 Image Credit: www.amazon.com
Because he was restricted by team rules from playing some sports in the off-season that potentially could cause an injury, golf allowed him to be competitive and stay sharp.
"Hand-eye co-ordination is similar (to playing goalie), except you're not trying to catch anything," he said in the book. "The focus is the same. It's a four-hour adventure. You've got to stay focused. Your body is getting a break, but your mind's working. It's a different thought process than playing hockey because it's not a reaction sport, so you're not burning yourself out."
His passion for golf turned into a career. He was hired as the Director of Golf for the Desert Dunes in Palm Springs in 2013.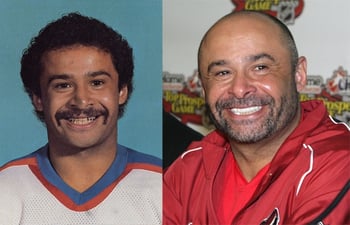 Image Credit: www.edmontonjournal.com
Fuhr has regularly played in some Pro-Am tournaments with golf stars such as Phil Mickelson and Mike Weir. He also played regularly in the American Century Celebrity Golf Championship for retired pro athletes and celebrities. He played in a couple tournaments on the Web.com in 2008 and 2009 and has played in five tournaments on the MacKenzie PGA Tour Canada.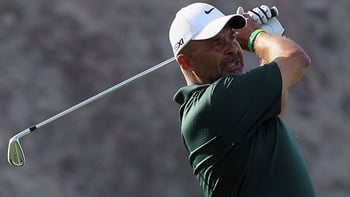 Image Credit: Golf Canada
Danny Quinn, who played 14 seasons in the NHL, has won the tournament five times. He has also made news caddying for Ernie Els, John Daly and Joost Luiten. He began caddying for Els in 2009 on a trial basis and was one of two the big South African had on the bag in 2010. They made news when Els decided to employ Quinn at the Masters in 2010. Quinn had never caddied before at the Masters, but Els wanted to stick to his plan of alternating caddies that year. Ricci Roberts had been Els' primary caddie for 18 years.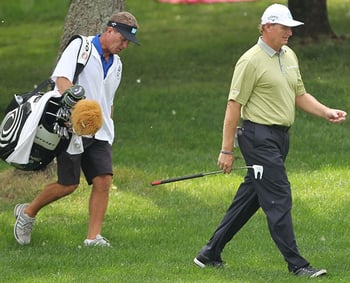 Image Credit: USA Today
Mario Lemieux, another NHL Hall of Famer, is also an avid golfer. He won the American Century Celebrity Golf Championship in 1998. Quinn and Lemieux were teammates for a short period in Pittsburgh.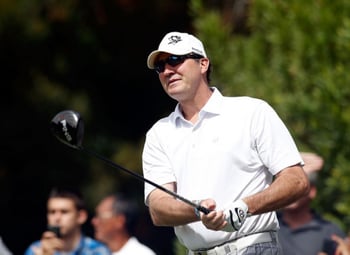 Image Credit: www.thesportster.com
Jeremy Roenick won the longest drive competition in 2000. Fuhr was the runnerup.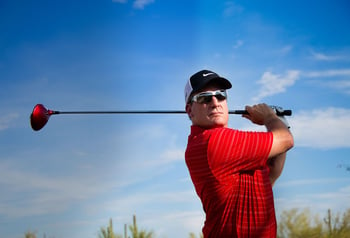 Image Credit:www.roenicklife.com
Brett Hull was runnerup in 1999 and Mike Modano won it in 1998.
Image Credits: www.holeinoneinsurance.com and Detroit Free Press.