When Muhammad Ali passed, among those who paid tribute to him was Lydia Ko.
"Thank you very much for being an inspiration to all! RIP Muhammad Ali."
Anyone who follows golf has to appreciate Ko's words.
She's a 19-year-old who would have known Ali only by what she has seen on video or read on the Internet. Sadly, she grew up in an era in which the greatest boxer of the '60s and '70s – and arguably of all time – had already descended into the depths of the disease that would lead to his death at the age of 74.
But it takes one great athlete to recognize and appreciate another.
Lydia Ko is doing some amazing things for women's golf and the game overall. She is ranked number one in the world, only two years into her pro career and has already won a dozen tournaments and almost $6 million in earnings.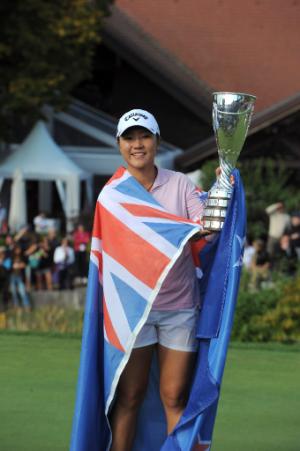 Photo cred: AFP Photo/Jean-Pierre Clatot
Because the Ladies' Professional Golf Association is not publicized the same as the men's Professional Golf Association, she is not as well known in the overall spectrum of sports.
Muhammad Ali made an impact on the way sports are viewed, and by the time she is finished her career Lydia Ko will have accomplished her own mark. Not every athlete can transcend sports by broadening their fame into politics, culture and life itself. Sometimes it is merely their ability to do something extraordinary in athletics that places them in their own category.
Lydia Ko has so much in front of her as a young woman. Who knows what she will do as she develops her game further? Will she be The Greatest in LPGA history? That will be told in the years to come, but for young girls aspiring to play the game, she is a role model and someone of inspiration.
Born in South Korea, she moved with her family to New Zealand at a young age and became a citizen of the country at age 12. New Zealand is hoping to make the New Zealand Open an LPGA event. It would attract the world's best to the country that has influenced Ko as a person and a golfer.
Ko will be active this summer playing for her country when golf makes its debut in the Summer Olympics. The world will come to know her in a big way.
---
This post was originally published by Knetgolf on June 7, 2016. Knetgolf was acquired by LostGolfBalls.