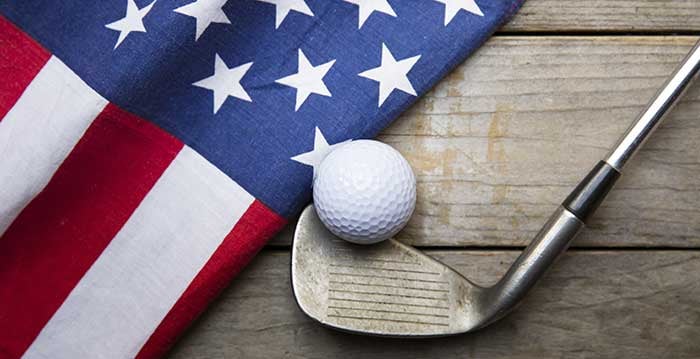 Yesterday, millions of Americans honored the brave men and women who have lost their lives while serving in the U.S. military. Memorial Day originated shortly after the Civil War when the Grand Army of the Republic – the Union Army's veteran's organization – established the last Monday of May as a time for the nation to decorate the graves of the fallen with flowers. From fighting for independence to liberating the oppressed, America's history is deeply intertwined with its military exploits.
Did you know that golf and the military also have a past?
Long before Rory McIlroy cruised to his maiden U.S. Open title at Congressional Country Club, the Bethesda, MD club was home to some other major firsts. The Office of Strategic Services (OSS) – the predecessor to today's CIA and Special Forces – leased the club as a training ground for spies and commandos. Marksmanship training on the driving range put a whole new spin on picking your target while practicing throwing hand grenades into bunkers certainly defined the explosion shot.Some of golf's legends also proudly served in uniform: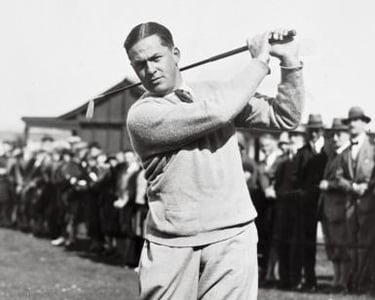 Photo cred: Sarah Fabian-Baddiel/Heritage Images/Getty Images
Bobby Jones, the greatest amateur of all time, served during World War II as an officer in the U.S. Air Force. His superiors wanted him to play exhibition golf in the states, but Jones would have none of it, expressing a desire to serve overseas. Jones reached the rank of lieutenant colonel and landed in Normandy the day after D-Day (June 7, 1944), where he spent two months with front-line divisions as a prisoner-of-war interrogator.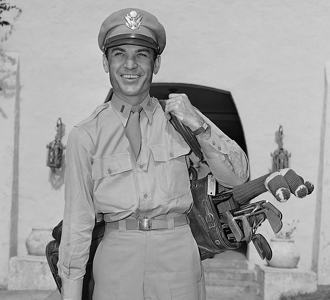 Photo cred: www.golffundamental.com
Ben Hogan, author of the game's sweetest swing, also served in the Air Force during World War II. He reached lieutenant and was a utility pilot stationed in Fort Worth, TX.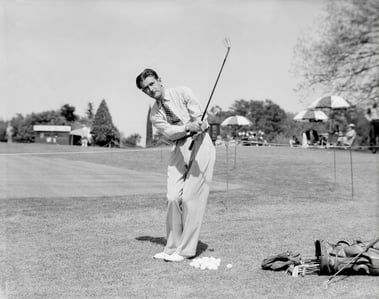 Photo cred: Augusta National/Getty Images
Lloyd Mangrum, winner of 36 TOUR events including the 1946 U.S. Open, declined a job that would have prevented him from serving overseas. He enlisted in the Army and won two Purple Hearts, having been wounded in The Battle of the Bulge, one of the war's most brutal assaults resulting in the highest number of U.S. casualties for any one battle in World War II.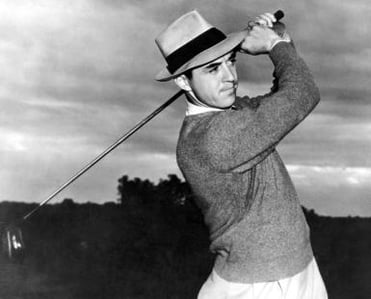 Photo cred: Underwood Archives/Getty Images
Sam Snead served in the U.S. Navy during World War II. The most winningest player in PGA TOUR history (82 titles) was an athletic specialist in San Diego.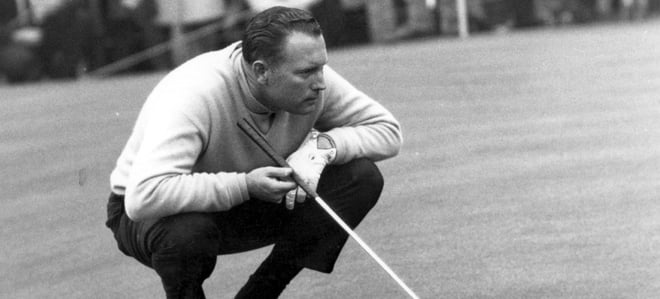 Photo cred: www.golfbusinessmonitor.com
Billy Casper, owner of 51 PGA TOUR titles including three major championships, served in the Navy and later entertained troops overseas by hitting golf balls off aircraft carriers.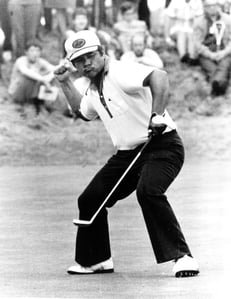 Photo cred: www.dailydsports.com
Lee Trevino served in the Marines for four years as a machine gunner beginning in 1957; he attributes his promotion to lance corporal as a main reason why he became such a great golfer.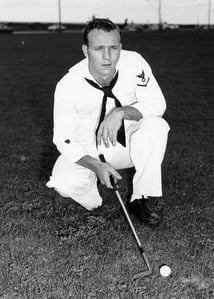 Photo cred: www.uscg.mil
Arnold Palmer enlisted in the Coast Guard in 1950 and served Yeoman until 1953. The King was still able to play golf during his service and would go on to win the U.S. Amateur in 1954.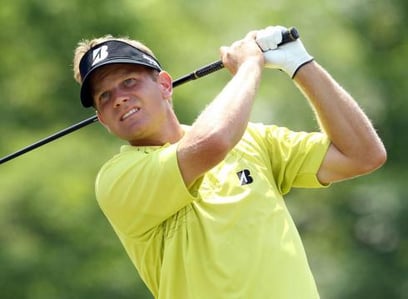 Photo cred: Andy Lyons/Getty Images
Billy Hurley III graduated from the U.S. Naval Academy and served aboard the USS Gettysburg as a combat electronic division officer. He rose to the rank of lieutenant and also served aboard the USS Chung-Hoon in the Persian Gulf from 2007 to 2009.
Many more famous golfers took up arms to defend their country including Horton Smith (winner of the inaugural Masters), Ed Oliver, Jimmy Demaret, Jack Fleck, Orville Moody and Larry Nelson.