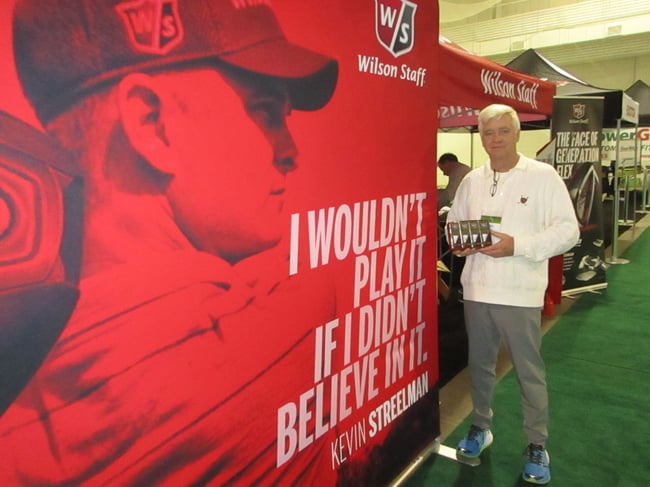 As one of the premier manufacturers of golf equipment worldwide, Wilson Staff is constantly creating products to meet consumer demand, including balls, particularly the DUO line.
As Wilson notes in its 2017 Product Guide: "Whether you need ultimate urethane playability, aggressive green side spin or long, straight distance, DUO not only delivers on performance, but what sets it apart is its great soft feel. Play the 55 compression DUO Urethane, the 35 compression DUO Spin or the world's softest DUO at an amazing 29 compression. Demand to play the world's softest. Demand DUO." In the guide, it describes DUO as "the ball that started it all. Still the softest. Longest. Straightest."At the recent Canadian Golf & Travel Show, I ventured over to the Wilson Staff exhibit to learn more about the DUO family of golf balls.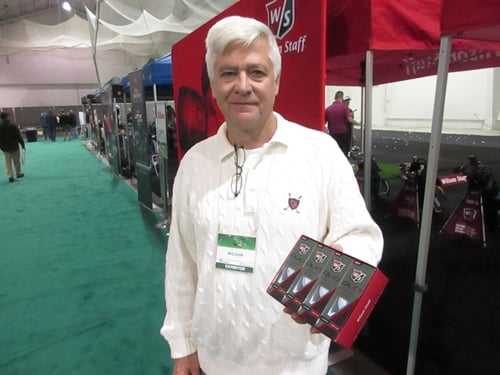 Doug Coombs showing off the Wilson Staff DUO golf balls
"What was very unique about the Wilson DUO ball is that it was the first very, very low compression golf ball, the softest golf ball on the market," said Doug Coombs, Commercial Director, Wilson Sporting Goods Canada. "It blows away any of the competition. It comes in a number of colors. Sometimes the challenge with low-compression golf balls is they feel very, very soft, but some people argue you give up distance. The way we've manufactured the ball is you can keep the distance, but you get the great softness around the green. The softness of the wedge shots and putting and so on and so forth is fantastic. It's our best-selling golf balls."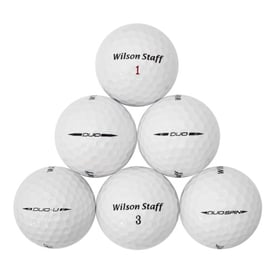 "That ball, which was introduced four years ago, suits just about any type of player. If you compare that to some our competitors, it's a lower price and equally as good. Typically for many, many years, people were trying to make a golf ball that goes further. It was a race to the moon, but nobody was working on a golf ball that would feel better, softer and would still give you that distance. We saw an opportunity to go for a segmentation of the market that nobody else was doing."
"Two years ago we introduced Duo Spin. It's a little higher compression, three-piece construction (whereas) the duo is two-piece construction. For that player wanting 100 yards in to spin the ball and make it stop, that's been like a sister to the brother. Late last year, we introduced the DUO Urethane. It's a three-piece ball with a three-piece cover and slightly higher compression."
Gabe Rapini, a Territory Manager for Wilson, added: "We were the first ones to design a golf ball with low compression, and now all manufacturers are doing the same thing. We're obviously very successful at it. If you notice, every manufacturer has gotten rid off 90s and 100 compression golf balls. Nobody talks about compression anymore and no one will tell you what the compression of their golf balls are because all of the compressions have come down. It shows we made a winner and people are following it.
"The first one we designed was a 35 compression. A competitor came out with one that was one compression lower, so we moved the DUO down to a 29 compression. The DUO did very well so we had to expand the family. The DUO family is the largest percentage of players in the marketplace. 65% of the players play in that category. The Urethane is 5% -- that's the guy that's a good player, knows what he wants. Basically a five handicap and below is the Tour guy. In the middle is the control ball, the spin, which is 30% of the market."
Earlier this year, Wilson Staff announced that PGA player Ricky Barnes, who has been under contract to the company for several years now, will play the FG Tour Urethane – a 4-layer ball with a soft, cast urethane cover.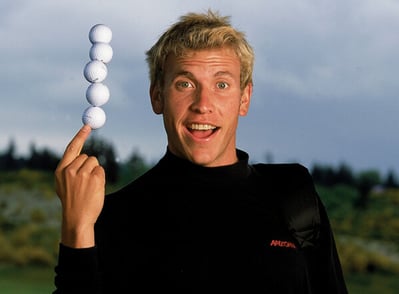 Image Credit: SI Vault
YOU ASKED US: Charlie Sokolash wrote to us saying he is a 24 handicapper with a swing speed around 75 and wanted to know some balls he should try because he'd like one that would stop after a few feet when using a wedge to hit on to the green.
I asked several people and the consensus was he should use a soft ball to spin the ball, but I was also told that the number one thing to put spin on the ball is the groove on the clubs.
"You've got to make sure those grooves are pristine," said Gary Price, a Teaching Professional at BraeBen Golf Course in Mississauga, Ontario, Canada. "That's why when you hit a ball out of the rough when it's wet, the ball doesn't perform. The reason is it hydroplanes because those grooves are full of water. If there's a hint of grass or dirt on that groove it will not spin. There's no grip. It's like bald tires. So make sure your club face is clean. To get real technical, a certain type of groove puts more spin than others. Callaway has a set of wedges called Mack Daddy grooves that Phil Mickelson and all the other guys use. So part of it is the golf ball, part of it is the grooves and it also has do with better club head speed."