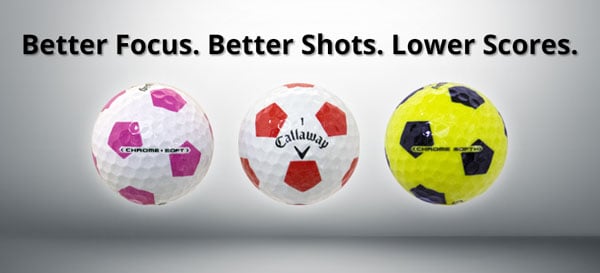 Perhaps you have seen that odd miniature soccer ball rolling across your golf course. Well, that golf ball isn't sporting that pattern as some sort of gimmick to appeal to soccer-mad golfers. Its name is Truvis, and it is helping players around the world improve their game and lower their handicaps.
But don't be mistaken, this isn't just an aid for your average Joe. With 16 Pro Tour wins already, the Truvis pattern is making its impact among the professional ranks as well. In fact, Truvis patterned golf balls have become the favorite of eight-time major champion Tom Watson.
The way the Truvis pattern helps golfers is simple. The human optical system contains over 30 distinct visual areas. A golf ball featuring this pattern stimulates more of these areas than the plain white variety. The symmetrical and repeating design helps the eye construct the 'missing' parts of the ball by joining the straight lines creating a more 3D image in your brain. In layman's terms, the Truvis pattern provides a golfer a more developed and detailed view of the ball, helping them make cleaner and fuller contact.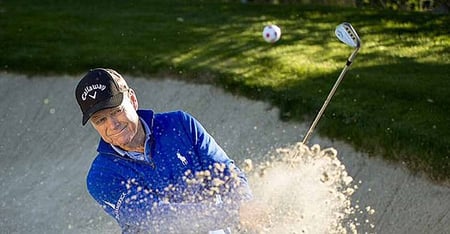 Photo cred: http://archive.golfweek.com/
Patterned golf balls also have the added benefit of helping to illustrate the speed and direction of the ball's spin. This makes balls featuring the Truvis pattern the perfect practice tool, helping golfers better grasp the amount of spin they may be generating on certain wedge shots as well as seeing the precise roll and movement of putts.
In addition to helping your game, the pentagonal markings make the ball easier to follow in flight. This is helpful if your game is similar to that of a certain blog writer and you spend a lot of your time on the golf course walking up and down the tree line in a futile search for your errant tee-shot.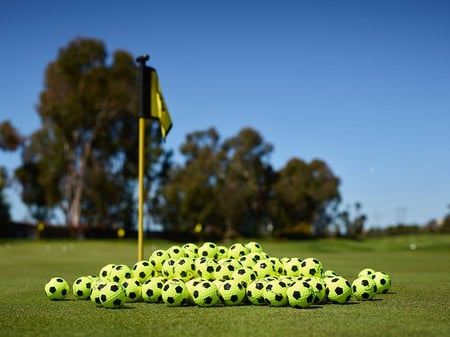 Photo cred: http://cmp.callawaygolf.com/
Want to give Truvis balls a shot? LostGolfBalls.com has you covered! Try some patterned Callaway Chrome Soft Truvis in a variety of colors including Red, Yellow and Black, and Pink. The Chrome Soft Truvis' four-piece construction provides excellent distance off the tee without sacrificing soft feel and control around the greens. Its Tour Urethane Cover provides excellent spin on short-iron and wedge shots, which you'll be able to see better than ever thanks to Truvis!
Already a fan? Let us know why you play the Truvis pattern in the comments section below.