"I was kind of in awe of everything, after seeing it [The Masters] on TV and having always heard about it. Everyone says 'we can't explain to you, you just have to go look at it'. You walk in and are just in a daze, surprised that you are there." As the dawn broke in Augusta at The Masters on Sunday, Chris Osmun of Davenport, Iowa arrived at Magnolia Lane with his longtime friend, Mike. Back in February, Chris had seen his buddy 'like' the LostGolfBalls.com Masters Sweepstakes and figured "why not?". He clicked the 'like' button, filled out the form. A month later he was selected as our winner. Before one enters golf's most serene and magnificent place, they first must encounter numerous security checks. "Of course, no cell phones or cameras allowed. It's like going to the airport. Dogs out front, then you go through the line to empty out your pockets and all that gets run through the x-ray machine as you proceed to get wanded." Once through, you are officially a patron of The Masters!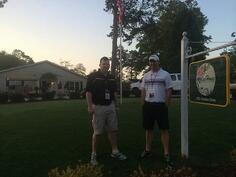 By 7:30am, Chris was inside the merchandise tent with surprisingly no line. Not knowing if he would ever be able to make it back, he grabbed a hat, a towel, a Flag Pin, a couple of Masters Caddy Teddy Bears for his kids, and a Masters Chair, which comes in handy after a long day on the course. He was told the night before, by a couple he met, that he should purchase chairs first and then head straight to where he wanted to end up and set the chairs there. Everyone writes their name on the back of their chair, leaves it there with all of their stuff and nobody messes with it. It's like that throughout the course. If you see empty chairs, they are available until the seat holders come back and ask to sit. After the chair was in place, walking the front nine commenced. "The front nine is way hillier than I thought it would be! It's Wednesday and my calves are still burning." After making it through the outward 9 he rested around Amen Corner to let the history and grandeur sink in. "Twelve was my favorite hole to watch the groups tee off and then walk over the Hogan Bridge." He watched a couple groups come through and then proceeded to finish walking the rest of the inward 9.
Lunch consisted of a very economically priced world-famous Pimento cheese spread sandwich that he shared with his Masters companion, Mike, who got the Egg Salad sandwich. An adult beverage, chips and a drink ran him $6.00. Not bad for the most difficult membership to land on the planet. "The hospitality there was amazing. Everyone was so helpful, cordial and polite."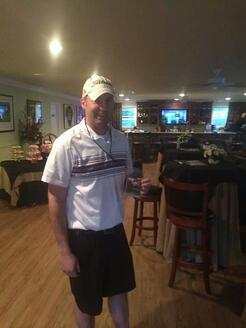 After lunch another loop was made around the course. He walked with Fred Couples for 2 holes and watched him make his only birdie of the day on Hole 14 'Chinese Fir'. When Chris arrived back to his chair on Hole 16 'Redbud' everything was exactly how he had left it. He had set up his chair just left of the bunker, back-left of the green. He was only 3 rows behind the rope and had a great vantage point. The most memorable shot he saw was from Miguel Angel Jimenez. After teeing off, his ball landed short, but rolled past the hole, then it came back off the slope and missed by an inch. Chris was only 40 feet away from almost witnessing a hole-in-one at The Masters! The "Sunday afternoon roars" lived up to their hype. "That is what I wanted to hear, to know if they were magnified on TV or if they were really that loud. Every time they changed the scoreboard on 16 there was a roar." After Bubba Watson and Jordan Spieth came through he headed straight to 18 green. In the process he found out that running is not allowed at Augusta National, "You can walk as fast as you want, but no running!" He was able to get about 30 feet from the green, see Watson and Spieth finish out and was part of "a tradition unlike any other," as announcer, Jim Nantz says annually.
When asked about tips for future patrons of The Masters, Chris said, "Get there early, get a chair and put it where you want it. 18 was packed by the time I got through. Go see the whole course and take pictures with your minds-eye. You won't be watching the golfers; they are secondary once you get on the course. I will never watch The Masters the same on TV again, knowing I saw that shot there and this putt here."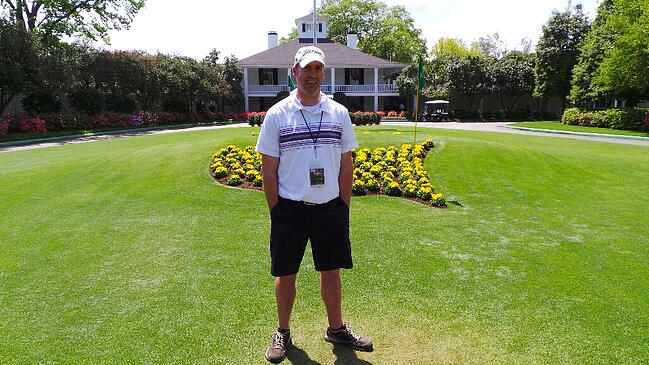 To listen to the full Masters interview with Chris, click here!
We are giving away a brand new set of Nickent Irons to one lucky person!