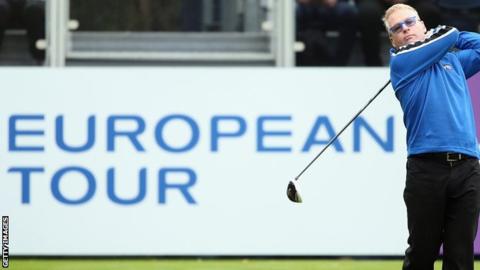 Image Credit: BBC
Keith Pelley has always impressed me as a visionary, someone who knew how to take the sports experience to a new level, so I'm not surprised what he is doing as Commissioner and Chief Executive Officer of the European Tour, shaking up golf with some radical ideas.
In 2015, Pelley surprisingly left Rogers Sportsnet, which he helped build into the pre-eminent television sports network in Canada with some daring moves, including engineering a 12-year, $5.2 billion contract with the National Hockey League for exclusivity rights in 2014.
Image Credit: Daily Mail
Pelley had helped to transform The Sports Network into Canada's first-ever all-sports TV network, and then in a somewhat stunning move he left TSN to become president of the Toronto Argonauts of the Canadian Football League in 2004, winning the championship game in the first year. The next season, he was heavily involved in the Argos' signing of suspended National Football League star Ricky Williams.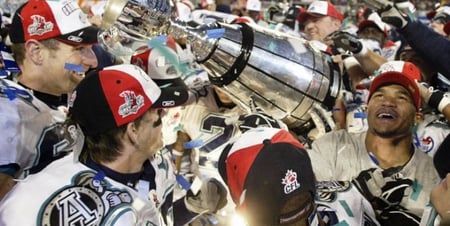 Image Credit: CFL
He left in 2007 to head up a media consortium for the broadcast of the 2010 Olympics in Vancouver/Whistler, British Columbia.
And then he went to Rogers to head up its media properties.
Proving that he wasn't afraid of a challenge, he left in 2015 to head up the European Tour, and if you've been paying any attention he's been creating some buzz with some of his ideas to change the way golf is broadcast on TV.
Last April, four-man squads representing France, Denmark and Spain competed in a relay tournament to set the Guinness world record for the fastest time to complete a par-five hole. The French squad finished it in 34 seconds, half the time of the previous world mark. If you haven't seen it, check it out. It's crazy.
But that is Pelley: He understands how to use TV to create broadcast excitement for a sport. Some of his other ideas have been to speed up a round of golf, shortening it from 18 or 9 holes to six. According to a recent story in the Toronto Globe and Mail, Pelley plans to introduce a shot clock, loud music and microphones on players in tournaments.
Pelley's background includes producing TSN's coverage of curling, which happens to be draw huge TV ratings in Canada because Canadians are among the best in the world in the sport. Shot clocks were introduced during TSN's exclusive coverage of the major national and international championships to speed up the game for broadcast purposes. Prior to shot clocks, players agonized over shots, which made for painfully-long game. The players were also equipped with microphones so people watching on TV had a chance to listen to strategy.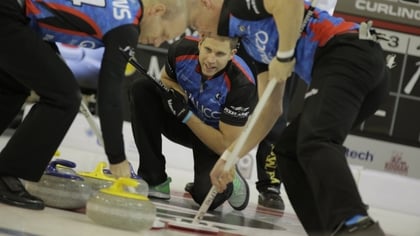 Image Credit: TSN
Golf is so traditional, but this is where Pelley, rightly or sacrilegiously, will aim to change things. TV is evolving quicker than we know, with technology providing different ways for viewers to get closer to the action and seeing it crisply and clearly – almost as if you are right there. But clearly Pelley is trying to go beyond that to change the overall in-person fan experience and extend that to the TV viewers. One of the ideas that Pelley talked about in the Globe and Mail article is creating the honorary observer package, which will allow fans and corporate partners to walk inside the ropes, essentially striding along the sacred ground of the players. It is one thing to do it on the European Tour, but quite another to do it on the PGA or LPGA. Pelley is trying things at tier-two level, and some of his ideas sound like something wrestling impresario Vince McMahon tried with the Xtreme Football League – and we all know how that went over. But at least McMahon created a different in-stadium fan experience and the way the game was broadcast. He forced the National Football League to change up some of its broadcast production.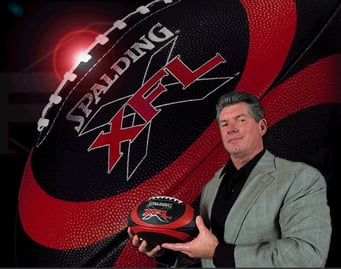 Image Credit: The Comeback
Pelley has a mindset that the golf needs some changes.
"It's all about exposing golf to a different demographic and showcasing our game by little snippets of a fast-paced, different type of coverage," he told the Globe and Mail.
"There will always be the traditional 72-hole tournaments and you will always have to respect the integrity and tradition of the game. But at the same time if you are not prepared to be innovative at this point you are going to fall behind."
If his past history holds true, Keith Pelley will use his broadcast knowledge to shake up golf and will then go on to his next challenge.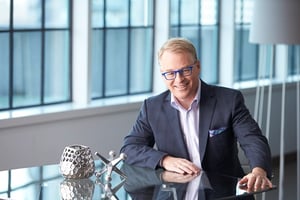 Image Credit: European Tour