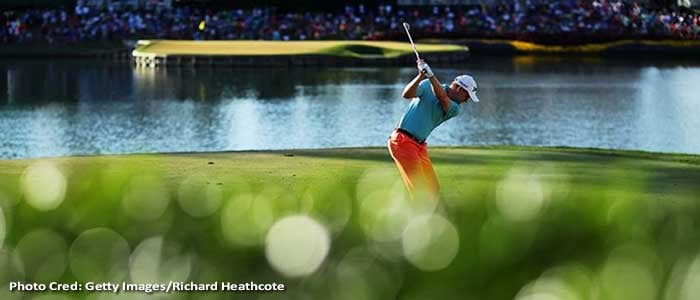 Russell Knox proved one thing last Saturday at TPC Sawgrass: whether you're a seasoned professional or picking up a club for the first time, hitting a golf ball over water is tough.
Standing on the tee of the Stadium Course' famed 17th hole, Knox was a few strokes off the lead and feeling pretty good. That all disappeared when the Scotsman donated three, shiny new golf balls to the pond surrounding the infamous island green. His eventual sextuple-bogey 9 (which sadly isn't the worse score in history on that hole), followed by a closing bogey on 18, dropped him from inside the top-10 to a tie for 40th. One ball, two balls, three balls more; watch as 17 destroys your score.
The 17th at TPC Sawgrass is a classic example of water's magnetic attraction for golf balls. Since 2003 the best players in the world have deposited 608 golf balls (not counting the 30-plus from this year) into the pond there. Bob Tway holds the PGA TOUR record for highest score with a 12 after putting four balls into the drink (though the 66 Angelo Spagnolo – a.k.a "The World's Worst Avid Golfer" – recorded has to be a record of some kind too). Even more impressive are the 100,000 golf balls that are fished out of the 17th's pond on a yearly basis.
On average, golfers loose nearly a sleeve of golf balls per round, many of which end up in water hazards across America. On lifeguard duty is LostGolfBalls, who's partnered with retrievers and thousands of courses to perfect the art of transforming your bobber blunders into beautiful balls.
Restoration is a tedious but rewarding process. First, the millions of recovered golf balls go through a thorough cleaning process and sudsy wash. Next, the golf balls take a sterilization bath to remove any harmful contaminates (sorry, no matter how hard we scrub we can't get rid of those slices and hooks). After being dried off, golf balls are automatically sorted by a complex computer program and then hand-inspected for quality. Finally, each ball is packaged and shipped to the customer. During peak playing season, roughly 180,000 golf ball go through this amazing process each day!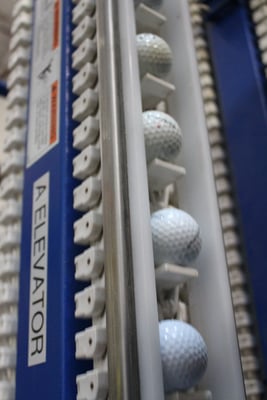 Recovered golf balls on their way to be sorted
When everything is said and done, LostGolfBalls' golf balls look brand new. But do they perform like brand new? The answer is a resounding "yes." Research and strict testing standards show less than a 1 percent performance difference between new and recycled. Innovative cover materials and modern, solid cores have greatly increased golf balls' resistance to water penetration which results in minimal, if any, distance loss. The biggest percentage difference you'll find with LostGolfBalls is in your wallet: at retail a dozen Titleist ProV1s cost $52, our top-quality balls are less than half at $23.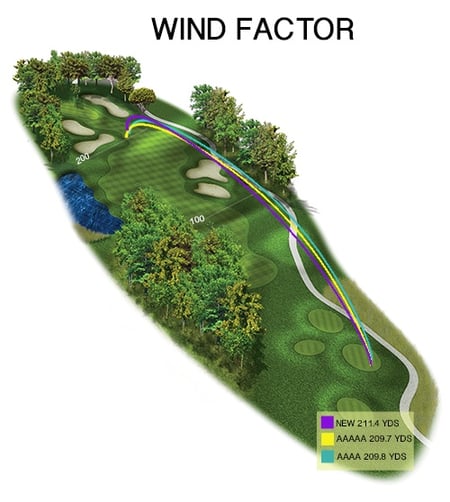 Our research shows that recycled golf balls practically perform like new!
Fun fact: if you hand-sorted one golf ball per second, it would take you 579 days to clean, process and package every golf ball sold by LostGolfBalls last year.