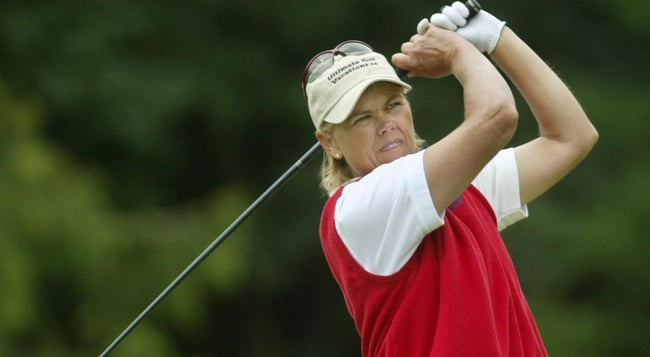 Image Credit: www.sportsnet.ca
If the measure of a person is the legacy they leave behind, then clearly Dawn Coe-Jones left the world with a profound impact.
Coe-Jones lost a battle with bone cancer last week at the age of 56.
The world of golf immediately reacted with profound sadness because of the impact she had on the game and the many people who came to know her. The native of Lake Cowichan, British Columbia became a member of the Canadian Golf Hall in 2003, recognized for what she did both in her native country and the U.S.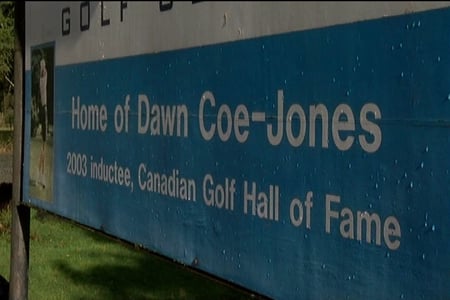 Image Credit: www.cheknews.com
She won three Ladies Professional Golf Association titles in her 24-year career and placed in the top-10 in 44 tournaments. She became the first Canadian women's golfer to surpass $1 million in earnings, and totaled more than $3.3 million overall.
Her legacy became evident this year when fellow Canadian Alena Sharp had the initial DCJ on her golf ball at the Canadian Pacific Women's Open in Calgary. That was the tournament in which hopes were high for Canadian teen, Brooke Henderson. She is now the face of Canadian women's golf, just as Coe-Jones was when she won the Canadian amateur championship title in 1983 and later became an All-American at Lamar University in Texas.
Image Credits: www.olympics.cbc.ca and Golf Week
There is a Facebook page, Friends of Dawn Coe-Jones, that includes a photo of the Canadian flag flying at half mast at the Kelowna Golf & Country Club. At the Tampa Palms Golf & Country Club, Coe-Jones' clubs were placed at the first tee.
The page also pays tribute to Coe-Jones with some words that really sum up the influence on this remarkable woman: "Dawn touched the lives of so many with her beautiful smile, wonderful heart and witty sense of humor. She had class, grace and integrity. She inspired generations of golfers both in her beloved Canada and in her adopted home in the US. She led by example with spirit and laughter, grit and determination. Dawn was one of a kind. With every sunrise – every break of Dawn, remember her."
Last month at the Tampa Palms Golf and Country Club, many players from the past and present gathered together for the inaugural Dawn Coe-Jones Classic benefitting the Amandalee Fund to raise money for sarcoma research at Moffitt Cancer Center in Florida. Amandalee Weiss was a 20-year-old Florida woman who lost her own battle with bone cancer in April, 2003.

Image Credit: www.amandaleegolfclassic.com
Among those who paid respect to Coe-Jones was American legend Dottie Pepper. Following Coe-Jones' passing, Pepper posted a simple but profound message on social media: "Always a class act. RIP, my friend."

Image Credit: Twitter
The great Annika Sorenstam also posted a social message of similar respect: "A true competitor, ambassador of the game. She will be missed. #RIP."

Image Credit: Twitter
She is survived by her husband, Jimmy, who had a long career in the golf industry, including president of Lady Fairway Shoes, which Coe-Jones wore in her career. Their son, Jimmy Jr., is a college golfer at the University of South Florida. He won the 2015 Florida State Amateur Championship.
Image Credits: www.golfnewsnow.ca